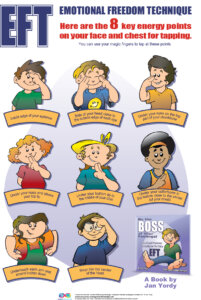 CLICK HERE FOR YOUR FREE EFT POSTER!
Jan also enjoys teaching a wide variety of different workshops for parents, teachers and therapists.  From her Center she also runs NeurOptimal sessions  as well as renting or selling NeurOptimal systems and teaching a NeurOptimal two day certification training.
Jan has a number of different resources for working with children on her website so she hopes you will take a deeper look if that would be of interest to you.  Please enjoy your FREE GIFT of an EFT Tapping poster which hopefully you can share with some children in your family or at work. 
If you are not familiar with EFT tapping, you are welcome to watch several EFT videos located on my website.  My first book, Be the Boss of Your Feelings, EFT for Kids could also be a helpful resource.