So What Is NeurOptimal® Dynamical Neurofeedback®?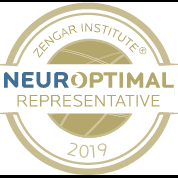 NeurOptimal® Neurofeedback uses advanced neuro-technology to read the electrical activity of the brain/Central Nervous System and allows it to operate according to its natural potential. Mathematically designed to communicate directly with the brain, it alerts it to what it is doing moment to moment. Subtle audible signals and interruptions to the musical flow communicates directly with the brain so it can OPTIMIZE ITS FUNCTIONING avoiding the pitfalls of reoccurring thoughts, habitual emotions and stuck patterns.
This innovative form of neurofeedback is not a medical treatment but instead is a TRAINING for the brain. With NeurOptimal® you receive the benefits of training across the range of all the available brainwave frequencies simultaneously. The benefit of working with multiple frequencies is that you don't get side effects as you do when only working with a few frequencies at a time which is how linear neurofeedback works. When you train with NeurOptimal®, you are flowing through the various frequencies on an as-needed basis, each frequency bandwidth balancing the others. You cannot go too far in any one direction, because you are receiving feedback from the entire spectrum, moment by moment!  Organizing dynamically provides the most efficient and least rigid training available today and it is designed to work perfectly with each unique brain.
The NeurOptimal® Neurofeedback program is like your own private meditation instructor, personal trainer, or a martial arts instructor that points out and corrects your unique form as you train. As your brain optimizes, the information in the feedback increases the resilience and flexibility of your brain automatically. Over time your brain naturally improves in its ability to function fluidly, enhancing all areas of your life. As a result stress and reactivity are decreased, healthy sleep patterns are enhanced, and the brain is free to operate in a more relaxed manner in a range of learning environments. When your brain is functioning more coherently, you feel calmer, clearer and able to make choices that lead to a happier and healthier life.
Using this safe and effective system for over eleven years at the Integrated Centre for Optimal Learning and now in my own Centre, I have witnessed improved mental fitness and amazing life transformations.
What Happens in A Session?
Your First Session:
I like to start in my intake session by asking some questions about how you heard about NeurOptimal® neurofeedback and what kinds of changes you would like to see in your life.  I also have several forms to fill in to gather more background information about what symptoms you (or if it is a child) are experiencing at the present time.  Usually the intake takes an hour and in some cases (if unusual circumstances) an hour & a half.  If there is time and I have an open neurofeedback room, I also like to include a 15 minute neurofeedback demonstration.  I am happy to answer any questions you may have at that first appointment or at a later time.
Since NeurOptimal® neurofeedback is not like linear neurofeedback which attempts to diagnose problem areas to target, it is not necessary to do an assessment process known as QEEG (quantitative electroenceph – alogram).  This saves you money since QEEGs are quite costly and are not needed with this newer technology which does not need to set up protocols to target specific brainwave frequencies.  With NeurOptimal® neurofeedback your brain will be using the training in the way that is intrinsically right for you working across all brainwave frequencies at the same time.
Hooking You Up: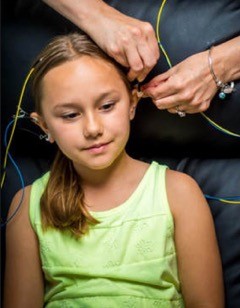 Sitting in a comfortable chair, two small sensors are attached to each side of your head with a water soluble conductive paste. These sensors will pick up the weak electrical activity of your brain. Three more sensors are clipped onto your ears – two on the right side and one on the top left side. These sensors are needed to ground your energy and to detect your energy from the energy frequencies present in the room (Wi-Fi, cell phone signals, computers, etc.).
As you settle back into the recliner, options will be given as to what you may want to watch on a screen while you listen to music.  Some people like to relax or take a nap, meditate, read, draw or talk quietly to the technician. We also have relaxation videos, a choice of musical selections, and a couple of children's videos if you prefer. Some children also enjoy playing games while they sit quietly in the chair. The subconscious which is always monitoring what is happening will optimize how the brain is functioning making the adjustments during the training while the conscious mind is otherwise occupied.
The Session: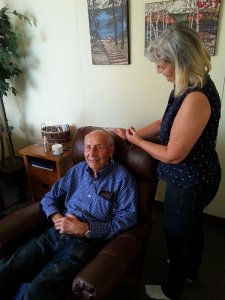 During the neurofeedback session you will either be wearing earbuds or hearing the music play in the room. Watching a nearby monitor is optional.  You may notice pauses or interruptions in the music which is important feedback for your brain. The interruptions (which may sound like glitches in the music) are the primary messages communicating with the brain. These signals alerts your brain to impending changes which will not be useful. Moment to moment your brain is resetting which helps it stay coherent, flexible and resilient.
Even though the actual training time is just over half an hour please allow an hour for your session.  This allows time to check in, attach and remove the sensors, answer questions,  schedule new appointments, take your payments and issue a receipt. We feel this allows us to deliver better service to you so you can leave feeling calm and relaxed.