Counselling and NeuroFeedback services are unavailable until after Nov. 1, 2019.
Personal and professional neurofeedback units are available to rent for a month.
---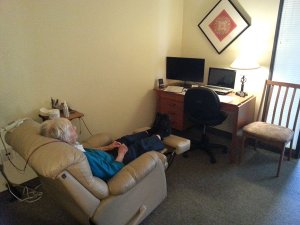 Jan provides both counselling and neurofeedback as part of her services. She has utilized NeurOptimal® neurofeedback services for over ten years. To find out more about the types of counselling provided please visit Resources and Techniques. To learn more about NeurOptimal® neurofeedback, please visit the Neurofeedback part of the website.
At this stage in her career Jan has decreased her hours to just working Wednesdays, Thursdays and Fridays from approximately 11:00 until 6:00. Appointments may be scheduled ahead of time either by phone or e-mail.
Jan's neurofeedback program is supported by three trained practitioners and runs five days a week. Appointments are usually scheduled in the afternoons or early evenings. They can be made by calling Jan's office or by e-mailing Jan. Remember Jan will not be at work on Mondays and Tuesdays.
Fees
Jan charges $110 for a 50 minute counselling session. If an hour and a half session is preferred the fee will be $165 for the time. Neurofeedback appointments are $100 a session with every tenth session provided free. There is a reduced fee for second and third family members who train at the same time. (See Neurofeedback and then FAQ for more info.). It is expected that fees are to be paid at the time of counselling and a receipt will be provided. Cash, cheque or an e-transfer is accepted.
Cancellation Policies
A last minute cancellation without 24 hour notice is considered a late cancellation and we will charge at half the session fee. This payment is due on the same day of the scheduled appointment and can be sent by e-transfer. If the session is not cancelled and you do not show, this is considered a missed appointment and I will charge the full fee for the no show. I am a self-employed therapist so I do not receive a regular salary. In addition I do need to give my neurofeedback practitioners advanced notice of their work schedule. Frequent cancellations and last minute postponements of scheduled appointments or when people do not show up is an inconvenience and deprives others from benefiting from our services. A few exceptions are made if there is a medical emergency, a sudden sickness of yourself or your child or extreme weather conditions which makes travel hazardous. I appreciate your understanding concerning this policy.
Services for Children & Adolescents
Play therapy
Anxiety & Stress
Trauma (EMDR Reprocessing)
Grief & Loss
Behavioral Concerns
Depression
Interpersonal & Social Skills
Learning Challenges & Strategies
Brain re-patterning
Services for Adults
Parenting Support
Self Awareness & Personal Growth
Trauma & PTSD (EMDR)
Grief & Loss
Depression
Stress & Anxiety